CROWS - repairing and improving our footpaths
Tuesday, 27 July 2021
Volunteers from CROWS - our local Community Rights of Way Service  - continue to improve and repair footpaths in our area and the rest of the Upper Valley.
Here's Richard Peters being interviewed by being interviewed by Trevor Simpson explaining the work CROWS do and how they got started:
Here's some of the recent footpaths, CROWS have worked on
Old Town clearing the overgrowth from village footpaths. This included paths down to Foot Kiln and along part of the maze of paths to Westfields and up to the Community Centre, and cutting back nettles on the path from Old Laithe.
---
Hebden Bridge – Nutclough Drainage on the popular path from Chapel Avenue down into the Clough. Three sections of collapsing revetment were making the path unstable; a situation not helped by drainage issues causing water to run down the path. All repaired and the Clogged up drainage pipe now running clear. Some channel clearing and scraping mulch off the path ended a good day. This work was funded by Friends of Nutclough.
After discussions with local people, the well-used path running from the end of Edward Street which joins the Chapel Street path was examined. The path is quite a mess with water crossings, tree roots and very uneven surfaces. Given this path is often used by children to access Nutclough, CROWS will explore the possibility of getting some funding to upgrade it.
Blackshaw Head A variety of jobs including, some cutting back where the path leads up from Winters Lane, repairing a stile off Badger Lane and replacing a yellow-topped waymark post downfield toward Colden Clough.
---
Midgehole and the Blue Pig - path-edge stability downstream from the Blue Pig was improved. This work is being funded by a donation from the Blue Pig and by other individual donations.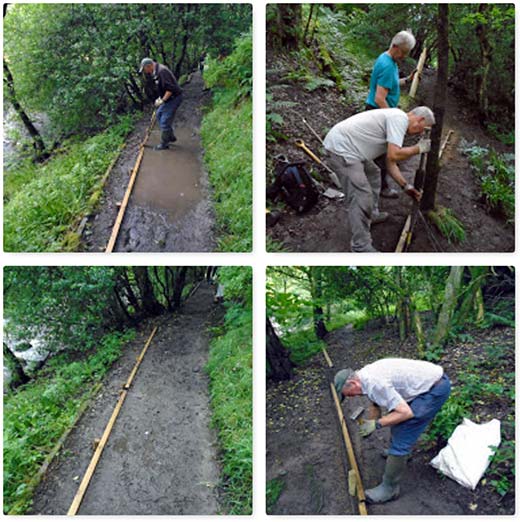 ---
Crimsworth Dean - work continued on the rush-choked bridleway above Sunny Bank ruins in Crimsworth Dean. The route had become impassable in recent years and walkers had been re-routing through the adjacent field. After the drainage work of a few weeks ago to clear and contain the stream, today, we hacked back more of the rushes and created a very clear walking line along the original bridleway . . . which, hopefully, walkers will now use. This work is funded by Huddersfield University's "Discovering Ted Hughes" project.
2019 - 2020 CROWS Annual Review - detailed breakdown of the types of jobs done, the places where worked, some highlights from the year's work, and other end of year information about CROWS.