'A Day In The Life' Photography Exhibition
Thursday, 2 September 2021
Hebden Bridge Based African children's charity launches 'A Day in the Life' Photography Exhibition in Town Hall
On Saturday 2nd October, the Hebden Bridge based charity Bishop Simeon Trust will launch the 'Day in the Life' photography exhibition at Hebden Bridge Town Hall.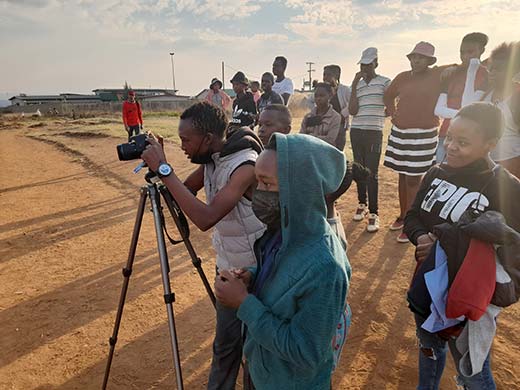 The charity has been providing support to some of the most vulnerable children in South Africa for more than 30 years, having been established in the memory of the late Bishop Simeon Nkoane, a close friend and ally of Desmond Tutu, who remains a valued patron of the Trust.
The exhibition is a chance to give children the space to express themselves and tell their stories through the medium of photography, by documenting a typical day living in some of South Africa's poorest townships. This builds upon a creative arts-based approach to youth leadership the Trust has developed in collaboration with the University of Leeds.
The Trust is being supported by several expert photographers on the project, including well known Hebden Bridge based photographer Sarah Mason, their Patrons Jonathan and Angela Scott, from the BBC's Big Cat Diary series, and renowned commercial photographer Matthew G Lloyd.
Martin Keat, Director of the Bishop Simeon Trust hopes the launch event will be an exciting way for the communities of the Calder Valley to engage with their work. "We think that this will be a fantastic opportunity for people in Hebden Bridge to explore the continued story of change in South Africa through the voices of children who live there. The Bishop Simeon Trust provides a connection between Hebden Bridge and South Africa, so we hope that people will come along to listen to the stories of the children we support, and find out how they can support our vital work."
Launch of exhibition
The Day in the Life exhibition launch will be held in Waterfront Hall at Hebden Bridge Town Hall from 5.30-7pm on Saturday 2nd October 2021. There is an open invitation to the launch but the Trust asks that those interested register as there are limited spaces available. Details may be found on their website www.bstrust.org or via this Eventbrite link.
The exhibition will stay up until the 8th October 2021, before commencing a touring exhibition in various locations around the Calder Valley and beyond.