Tuesday, 12 October 2021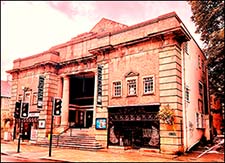 I Am Belmaya at The Picture house
An inspirational tale of rebellion, courage and hope at Picture House fundraising event
Hebden Bridge Picture House invites you to an evening of documentary film presented by the Picture House and the Bishop Simeon Trust featuring the new release documentary film 'I Am Belmaya', in addition to short films 'Phendulani and Me' and 'Malume Uya Lumana'.
The evening will include an introduction from Martin Keat from the Bishop Simeon Trust and a short talk from Paul Cooke from the Changing The Story project.
Martin Keat from the Bishop Simeon Trust said, "Join us on Sunday 17 October at Hebden Bridge Picture House to explore how children in South Africa and Nepal are using filmmaking to express their opinions and experience. We'll be showing three short films which all touch upon a common theme: how participatory filmmaking can help young people claim their voice."
Rebekah Fozard, Manager of the Picture House said, "We'll be joined by Professor Paul Cooke from the University of Leeds, who will give a short talk on the role of filmmaking in international development. If you are aged 16-25 your ticket is only £5 and entitles you to a free place on an Introduction to Filmmaking workshop we're running on Monday 18th October from 5-7pm. Please contact us for further information."
Sunday 17 October - Doors open 7pm, starts 7.45pm, approx. end time 10.15pm.
Get your tickets, priced from £5 to £7.50 now. Profits from the event go to support the work of Bishop Simeon Trust.

Tickets