Mind your Head announce new events
Tuesday, 8 March 2022
Mind Your Head, a campaign promoting better LGBTQ+ mental health and wellbeing in Calderdale and beyond, has announced two new online events. The project is a partnership between Happy Valley Pride and the Brunswick Centre that raises awareness of issues around LGBTQ+ mental health and provides links and resources on an online hub. (More info).
The campaign was set up as LGBTQ+ people are more likely to have mental health challenges yet less likely to seek help and support. The new events are completely free and will be broadcast on the Happy Valley Pride website and on Facebook Live.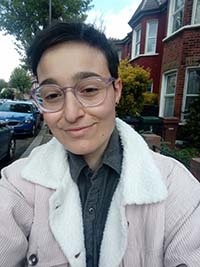 Self-Care and LGBTQ+ Mental Health – with Yas Necati - Wednesday 16 March at 7.30pm
Yas Necati is a writer, poet, campaigner and drag king. They will talk about the need for better LGBTQ+ mental health provision and explore their own mental health journey, their experience of depression, anxiety, psychosis and self-harm/suicidal thoughts, and the importance of self-care. 
Through their work Yas explores themes of queer and trans identity, migrant identity, mental health, recovery, community and resistance. They campaign on gender-based and queer based-rights, run workshops on self-care, and occasionally perform as their drag act alter-ego, Turkish pop star Tarkan. 
Queer Up - with Alexis Caught - Thursday 21 April at 7.30pm
Award-winning podcaster, writer, speaker, model and rugby Alexis Caught joins us to discuss mental health and wellness, the millennial struggle, and the queer community. His new book, Queer Up: An Uplifting Guide to LGBTQ+ Love, Life and Mental Health, is an insightful and empowering guide which takes young people by the hand and offers uplifting advice and activities to help readers through life's challenges and instil them with confidence and pride. 
The book provides an inclusive account of what it means to grow up queer, with chapters on questioning, coming out, friends and family, love and relationships, sex, shame, pride, being transgender and/or non-binary and allyship, with a key focus on positive mental health strategies. 
Malcolm Struthers, Mind Your Head Project Manager said, "We are delighted to welcome Yas Necati and Alexis Caught to talk about their experiences and share their thoughts and insights. We have had a fantastic response to the Mind Your Head campaign so far and it is great to be able to showcase a range of voices to talk about LGBTQ+ mental health."
The campaign was launched in September 2021 as LGBTQ+ people are more likely to have mental health issues yet less likely to seek help. 
1 in 8 LGBT people aged 18-24 (13%) said they've attempted to take their own life in the last year.
Half of LGBT people (52 per cent) said they've experienced depression in the last year.
One in seven LGBT people (14 per cent) have avoided treatment for fear of discrimination because they're LGBT.
LGBT in Britain – Health Report - Stonewall – 2018
A study of LGBTQ people's experience during the pandemic, by University College London (UCL) and Sussex University, found 69% of respondents suffered depressive symptoms, rising to about 90% of those who had experienced homophobia or transphobia.
Mind your Head website