Elizabeth Truss's Hebden Bridge past
Monday, 25 July 2022
Conservative Party current leadership contender, Elizabeth Truss, was the Conservative candidate for our Calder Valley seat in the 2005 General Election. She was beaten by Labour's Chris McCafferty, who was our MP from 1997 until 2010.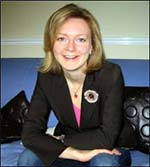 In an election message to the HebWeb, she said she was living in Hebden Bridge and wanted "to promote a Calder Valley with vibrant and lively market towns, tranquil green spaces and decent infrastructure to enable residents to get around efficiently on private and public transport." Pictured right from photo on the HebWeb in 2005.
"Elizabeth enjoys playing tennis and home improvements, although she is finding time for this scarce during the campaign. She is also a keen filmgoer and a fan of Hitchcock movies. She is a food lover, especially quality local produce."
In HebWeb Forum discussion, Susan Press argued, "Liz Truss is only here because of the appalling disarray of the Conservative Association in the Calder Valley. She has been imposed by central Office following the farcical debacle of Sue Catling." Sue Catling was the Tory candidate in the 2001 General Election.
The Daily Mail reported at the time, "Ms Truss was selected by Calder Valley in February 2005 as a last-minute replacement for Sue Catling, 50, an ex-actress who had been forced to stand down over an affair with the local association chairman."
For the Calder Valley Conservatives at the time, no woman who strayed outside marriage was fit to represent them in Parliament, so Sue Catling had to go.
Elizabeth Truss failed to tell the local Conservative Association that she was also having an affair. With fellow Tory MP Mark Field, who she took on the campaign trail. Both Mark Field and Liz Truss were married at the time of the affair.
Paul Rogan, treasurer of Calder Valley Conservatives in February 2005 and someone closely involved in the candidate selection process, said that the Association knew nothing of Ms Truss's affair with Mr Field.
"Had it been known, she would not have been selected. After all our trouble over Sue Catling, we wanted someone beyond reproach in their political and private life", he said.
Elizabeth Truss was brought up by left-wing parents in Paisley and Leeds. As a child, she marched through Paisley chanting: "Maggie, Maggie, Maggie, out, out, out." Truss is now seen by supporters as the heir to Thatcher's throne.