Update: opening 7 days a week
Friday, 16 September 2022
Everyone at the Calder Community Kindness shop would like to say a huge thank you for the wonderful support we have received from so many of you. By donating, visiting the shop, following them on social media and generally spreading the word, you have helped them to get off the ground. As a result, they have been able to raise funds to support people in the Upper Calder Valley.
They're delighted to be able to announce that from Monday 26th September, the shop will be open seven days a week! You can keep up with all our news by following their Facebook and Instagram pages.
Have you visited the Calder Community Kindness shop yet?
Wednesday, 24 August 2022
When Catriona Lucas started selling things on the canal tow path, she was hoping to raise a bit of money for the DEC Ukraine Humanitarian Appeal, but after a chance meeting with Jan Lymer, of Calder Community Cares, the plan for a new shop was born!
Calder Community Cares has been supporting people in the local area for over two years. At the end of June, it opened the Calder Community Kindness shop, at the former Tourist Information Office on Hebden Bridge Marina.
The shop sells preloved and new clothes, shoes, jewellery, outdoor/ sportswear, books, bric-a-brac, CDs and more, all donated by local people and businesses.
Catriona Lucas, the manager, told the HebWeb, "We've been blown away by the number of donations and the quality too. People have been so kind! We're also really grateful to the local businesses who helped us get off the ground by offering social media advice, donating shop fittings or new stock to sell and even putting up shelves and cleaning the windows – community spirit in action!"
The money raised is being used to support projects to alleviate hardship and promote wellbeing of refugees, families and people in hardship in the Upper Calder Valley. So far, £3,000 has been donated to the Burlees House fundraiser and other local initiatives have been supported, including the Cornholme Breakfast Club, a social evening in Mytholmroyd for refugees and their hosts, and Ukrainian art classes which are free to anyone in the Calder Valley.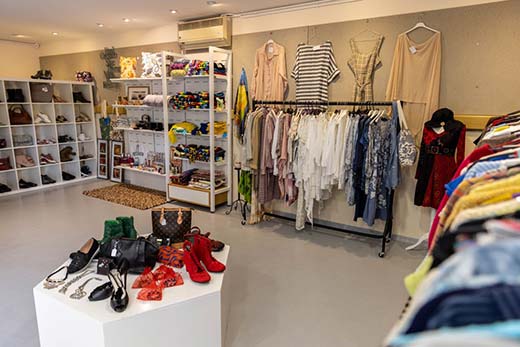 The shop is open from 10am to 4pm, Wednesday to Sunday. It is staffed by Catriona and her team of volunteers who offer a friendly welcome as well as great bargains. Feedback from customers has been extremely positive.
Calderdale Council kindly offered the use of the building for six months. All at Calder Community Kindness are hoping the shop has a future way beyond that if the lovely people of the Calder Valley continue to support it! You can find out more about the shop on their Facebook and Instagram pages.