Rare fern Moonwort found at Hardcastle Crags for the first time in 40 years
Monday, 12 June 2023
The plant, called Moonwort, was spotted following surveys by National Trust volunteers.
An incredibly rare species of fern has been found in fields at Hardcastle Crags, which hasn't been recorded in Calderdale for 40 years.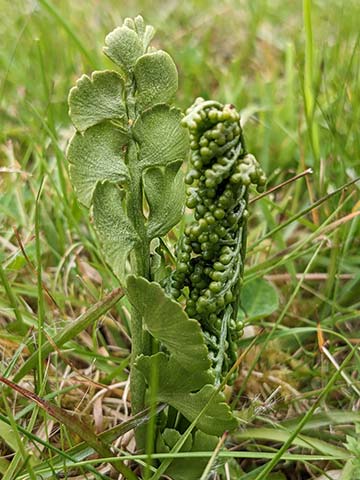 The fern, called Moonwort, has not been recorded in Calderdale since the 1980s. The nearest site which still has a population is in Haworth, Bradford.
Steve Hindle, Ancient Grasslands Project Officer for the National Trust, said, "Finding Moonwort is incredibly exciting for a botanist like me. It's small and unique, and hard to spot unless the grass is kept short on ancient grasslands like we have at Hardcastle Crags. The work the survey group have done means we can keep track on species like this and others around the site."
"Moonwort is a weird and wonderful looking plant, which comes with its own mythology. It was believed the key-shaped fronds could open shackles and locks, and the lower leaves were used by fairies for their horses' saddles."

The survey group volunteers have been helping track the plants and animals at Hardcastle Crags for over 5 years. The group now has more than 30 members, who survey species including flowers, ferns, moths, bats and birds across the 400 acres of woodlands and grasslands. The group also help with surveying the site's internationally important species, such as waxcap fungi and northern hairy wood ants.
This finding is just one of many rare species for the volunteer survey group at Hardcastle Crags. At a moth trapping session in May this year, the group found two species of moth which have never been recorded before in Calderdale, the Orange Footman and Speckled Fanner. The Orange Footman is normally only found in the midlands and the south of the UK. The Speckled Fanner is another first for the area, although it may have been missed by previous surveys due to its tiny size.
Nina Smith, a volunteer with the survey group, says, "I've been with the survey group for 4 years and have enjoyed every minute of it. The team are a fabulous mix of experts in a variety of fields from wildflowers to fungi to birds and all other aspects of wildlife. My knowledge of the natural world has massively increased since joining and every time I come along I learn something new."
Steve Hindle continues, "The work the survey group do is vitally important for keeping track of all the incredible species we have at Hardcastle Crags. From bugs to bats, this group are incredibly dedicated, and each member has their own special interest. It's inspiring to work with such a passionate group of naturists."