Tuesday, 7 November 2023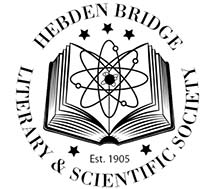 Transforming The National Portrait Gallery
Speaker: Dr. Nicholas Cullinan
Sat 25 Nov, 7.30pm
Hebden Bridge Town Hall
The Hebden Bridge Literacy and Scientific Society is pleased to welcome back Dr. Nicholas Cullinan, on November 25th in The Town Hall at 7.30pm, when he will talk about his current work at the National Portrait Gallery in a presentation entitled: Transforming The National Portrait Gallery.
Since he last spoke at one of our events, in 2015, he has been laying the foundations for a complete rebranding of this 193-year-old national institution.
Coming close on the heels of several sell-out evenings put on by the Lit & Sci, tickets for this event are selling fast. Recently, posters have been appearing around Hebden Bridge, and the local area, and people are already looking forward to seeing one of its most famous residents return home with news of his incredible work, in this case, for the people's own art gallery.
Nicholas was born in the US, but his family moved to Charlestown when he was very young, and he still has family living in Mytholmroyd. Therefore, he is well and truly a local boy who made good.
Anyone wanting to have a peek preview of what he is doing to transform this national institution should watch the above video. It shows just how meticulously detailed the work is in rebranding the gallery within the vision of making the portraits and gallery more relevant and accessible for a modern audience, even down to the typeface they use. They have created a font called NPG Serif.
If the visionary way in which his work has been conducted since 2015 has any reflection on the impact he must have had in his previous appointment as Curator of International Modern Art at Tate Modern, we are in for a treat in terms of his breadth of artistic knowledge and vision for the future of art in Britain.
With just over 24 days to go before this much anticipated event, there are some, but not that many, tickets left. You can buy them in person at the Town Hall (Monday to Friday 9.30-3.30 cash or cheque only), or online by visiting: hblitandsci.org.uk.
Best not to leave it too late to buy a ticket because those who did that for Simon Armitage (January 20th, 2024) found his event was sold out before the posters even went up.