Lindsay Rimer: 10 years on
Thursday, November 4, 2004
''I believe that someone, somewhere, still has this crime on their conscience. I am in no doubt that the answer lies locally in Hebden Bridge."
Police today launched a fresh bid to track down the killer of a 13-year-old schoolgirl ahead of the tenth anniversary of her disappearance.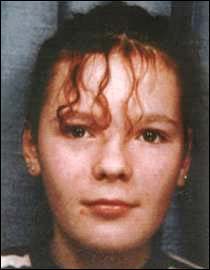 Lindsay Jo Rimer left her home in Hebden Bridge, West Yorkshire, at 10pm on November 7, 1994, to visit the local supermarket to buy cornflakes, but never returned. Five months later her body was recovered from a nearby canal.
In the ten years since, more than 5,000 people have been spoken to and hundreds of witness statements taken, but no-one has ever been charged over the murder.
Today, the senior investigator in the case urged local people to cast their minds back to the time of the incident to see if they could recall any new information to help solve the crime.
Detective Superintendent John Parkinson said: ' It may be that someone has harboured a suspicion for ten years that a friend, relative or acquaintance could have killed Lindsay.
'With the passage of time, someone who was unable to come forward and speak to us a decade ago might now be in a position to do so. I would urge them to contact us in confidence.
''It could be that someone locally put something to the back of their mind ten years ago that they are now free to tell us. Anyone we do speak to will be treated with sensitivity."
In recent weeks police have been speaking to several of Lindsay's schoolfriends at the time to see if they could recall anything further.
Hebweb comment: Ever since the Hebden Bridge Web started in 1995, there is one issue that we have tried to keep in the public eye: the terrible murder of Lindsay Rimer. Why has there been no arrest? Just what have the police done to solve this crime? It is now time for an independent review of the case to reassure the public that the police have done their best?
Mr Parkinson added: ' 'We are hoping that someone will provide that vital piece of information we need.
''I believe that someone, somewhere, still has this crime on their conscience. I am in no doubt that the answer lies locally in Hebden Bridge."
Lyndsay, a popular pupil at Calder High School, lived with her parents, two sisters and her brother at the family home in Cambridge Street, Hebden Bridge.
On the night of her disappearance she visited the Trades Club in Holme Street on her way to the supermarket, and was then captured on CCTV footage paying for the cornflakes at the store at 10.22pm.
Her older sister Kate took part in a reconstruction of her last known movements, hundreds of people joined searches of the local area and posters were put up as far away as London in a bid to trace Lindsay.
But five months later, on Wednesday April 12, 1995, her body was found weighted down in the Rochdale Canal, one mile upstream from Hebden Bridge town centre.
Police said at the time that Lindsay had died from strangulation, and did not appear to have suffered any sexual assault.
Anyone with information that could help the inquiry should contact Calderdale Police on 01422 337021, or Crimestoppers anonymously on 0800 555 111.