Friday, 7 February 2020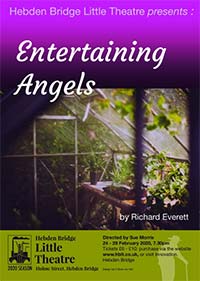 Little Theatre: Entertaining Angels
Monday to Saturday,
24-29 February 2020
Hebden Bridge Little Theatre's first play of the 2020 Season is Entertaining Angels, by Richard Everett, from Monday 24 – Saturday 29 February.  
Grace has been a dutiful clergyman's wife for forty years. Now, with the death of her husband, she is preparing to relinquish the family home to a new, female vicar.
But the arrival of her estranged missionary sister, Ruth, means Grace has to confront long hidden secrets, with potentially devastating effects.
Entertaining Angels is a very funny, grown-up comedy, about marriage, love, sex and faith. Penelope Keith received glowing reviews for milking Grace's sardonic humour, during the play's opening run in 2009. Gilly Walker plays Grace in our production, and aims to deliver the funny lines with similar success.
The other characters also provide their fair share of the comedy. They all have interesting characters flaws, and each faces moral dilemmas. The brilliance of the play means all this is told with a lightness and skill that keeps the audience engrossed and amused, whilst surprises keep on coming till the very end!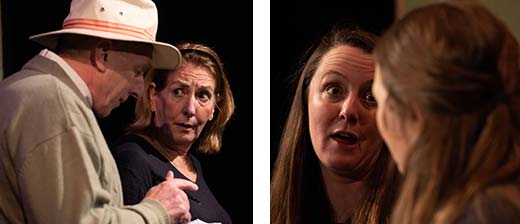 Sue Morris, returns to direct at the Little Theatre for the first time since she did The Importance of Being Earnest, in 2005. She has assembled an accomplished cast: Gilly Walker plays Grace; Rachel Peter is her daughter, Jo; Rachel Doyle-Richards takes the part of Sarah, the vicar; Hannah Stow is Ruth, the prodigal sister; and Neil Ashford plays Bardolph, Grace's husband.
Neil is the sole newcomer to the Little Theatre, in the cast. He returns to theatrical circles after a period of time which has been dominated by work and cycling. Neil's previous theatrical experience is mainly in Panto and Farce, in a number of amateur dramatic societies during a long and distinguished Army career. His big screen debut, as a background artist in Kenneth Branagh's 'Magic Flute', earned no reviews and so Neil is all but unknown. Neil is excited about playing Bardy in Entertaining Angels, and what the future might hold for him, within Hebden Bridge Little Theatre.
Entertaining Angels will be performed from Monday to Saturday, 24-29 February, at 7.30pm. Get your tickets now, online at www.hblt.co.uk, or in person, at Innovation, Hebden Bridge.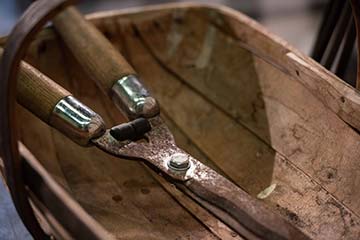 Rehearsal photos by Bruce Cutts.