Monday, 9 March 2020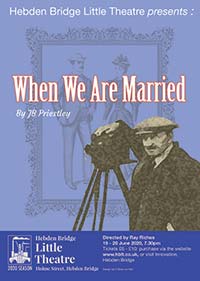 Little Theatre looking for a large cast
Audition and Read-Through
Sun 15 March, at 7pm
Ray Riches will be auditioning for their June play, When We Are Married, on Sunday 15 March, at 7pm.
In J.B.Priestley's much loved comedy, the Parkers, the Helliwells and the Soppitts, are highly respected pillars of their community. Married on the same day 25 years earlier, they gather to celebrate this auspicious occasion, only to discover that the vicar wasn't licensed, and they have been 'living in sin' all these years.
Ray is looking for a large cast, which includes parts for all ages, with an equal number of great parts for men and women. If you can't make the read-through, but would like to be considered, give him a ring on: 01422 843907.
When We Are Married will be performed 15-20 June.