Tuesday, 8 February 2022
The Wonderful World of Art Deco
Speaker: Sheila Antrobus
On January 21st, the guest speaker at the Todmorden u3a meeting was Sheila Antrobus, who presented 'The Wonderful World of Art Deco'
The Art Deco movement began and grew in the 1920s and 1930s. These decades saw the Wall Street Crash, and subsequent depression, plus the effects of the First World War still being felt. There was a general sense of gloom, even darkness. Something was needed to brighten things up.
The 1925 Exposition Internationale des Arts Decoratifs, which coined the name 'Art Deco', was held in central Paris. It was a great success, and people who attended liked the very new and modern designs of the products on display. More importantly, the movement gained popularity in other countries.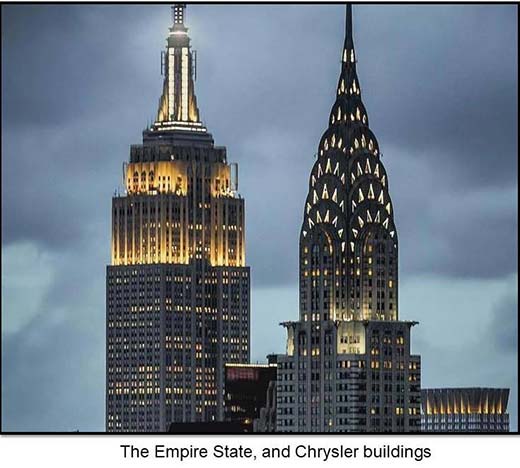 Back in America, two major projects which epitomised the design and appeal of Art Deco were completed in 1931 - the Empire State, and Chrysler buildings. Both buildings had futuristic and opulent interiors, finished to the highest standards.
In South Beach in Miami, Florida some 900 properties were built in the Art Deco style, with flat roofs, lots of windows and curved corners and having both up, and downlighting, a new feature at this time.
Architects in Britain began to be influenced by Art Deco, designing buildings that had curved, rather than angular corners. One of Sheila's illustrations was of a cinema in London with up and downlighting.
Moving on to furniture, we saw Art Deco inspired items such as a wooden bookcase which resembled a skyscraper and a drinks cabinet which, like Art Deco buildings, had curved corners. All stylish, and all expensive.
New fashions began to appear too – both men and women began to wear more comfortable, loose-fitting clothing. Sheila reminded us that this was also 'The Jazz Age', there was a saying that 'Art Deco danced to the jazz rhythm'. 'Flapper Girls' and 'Speakeasies' both had connections with the Jazz Age. One of the most famous names of the 20th century designed some of this clothing - Gabrielle Coco Chanel, who once said that 'Women had to be classy and fabulous'. She may have had this in mind when creating 'The Little Black Dress'.
We were shown a dazzling array of articles that became available. A lady of these times could have a handbag, designed to resemble a radio, which might have contained a powder compact designed by Van Cleef and Arkles of Paris. Made of blue lapis lazuli, its clasp and hinges contained diamonds, emeralds and amethysts, and would have cost £4000 to £6000 at this time.
Travel posters, again mainly or exclusively for the upper classes, appeared in a distinctive style, each with bold colours and dramatic images. HMS Queen Mary, one of the most famous British cruise liners, had Art Deco fittings throughout.
Moving on to sculpture of the time, we saw three figurines of women, each with long, slim arms and legs, not much clothing worn, and each mounted on an onyx or equally expensive stone plinth.
Sheila told us about three real women who were influential in Art Deco pottery design. First was Clarice Cliffe, whose original products are still in demand, and often mentioned on TV today. Less well known are two women sharing the name 'Daisy'. Daisy Cooper, whose designs featuring more muted colours, are not usually recognised as Art Deco. Daisy Makeig-Jones produced designs based on fantasy known as 'Fairyland Lustre'.
Rene Lalique began as a jewellery designer, but subsequently specialised in producing iconic pieces of glassware. Amongst these we saw a glass mascot, representing speed, on a Delage luxury French car, a glass decorated with birds just below the rim, and Lalique's 'Poisson' vase, featuring fish in several shades of orange – each of these items are now museum pieces.
Jewellery ranged from pieces made from Bakelite, a synthetic plastic, to a white gold bangle depicting Egyptian figures. Inlaid with sapphires, emeralds and rubies, the bangle was made in 1923, again a reference to current events, this time the discoveries of Howard Carter
Sheila ended her presentation by reminding us that Art Deco style and influence continues to this day, finishing by saying she thought that Art Deco was, and still is 'Vibrant, Energetic, Modern and Wonderful.'
The next Todmorden U3A Monthly Members Meeting will be on Thursday 17th February 2022 at 1.45 p.m. open to all fully paid-up members at the Central Methodist Hall, Todmorden. The speaker for this meeting is Linda Sawley on 'Growing Old Disgracefully'.
Not yet a member? You can attend one talk free by requesting an invitation to this zoom event. We're always delighted to welcome new members. Contact details: website at www.u3atod.org.uk or email at info@u3atod.org.uk.
Many thanks to Colin Sanson for this report
Previous U3A reports on the HebWeb - click here