Tuesday 1 March 2022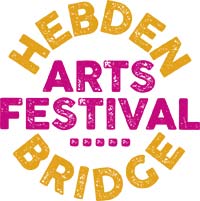 Crossings for Spring
A photo project for all
Hebden Bridge Arts Festival is proud to launch Crossings for Spring 2022 - a giant outdoor photo adventure which is open to the public.
The Arts Festival invites everyone of all ages, photography novices and professionals alike, to take part, by going for a walk locally and taking and submitting photographs for a touring exhibition in June. If you're not sure where to start, they're running some guided photo walks and workshops to help inspire you.

Stiles, gates and zebra crossings, tunnels and bridges, gaps in the wall and stepping stones – our landscape is filled with all manner of ways to cross a field, a river, a railway track, a road giving access to public paths and places we wouldn't otherwise be able to explore. Hebden Bridge Arts Festival wants you to be part of this exciting project, and encourages you to get outside and get snapping, in both the countryside and more urban areas: crossings are everywhere.
Take photos of some of the many accessible crossings you see within the Hebden Royd area, thinking about why the crossings are there, and send your photos in. Your photos will form part of an exhibition that will be shown across Hebden Royd in June, and will help to develop a Crossings trail, celebrating the unique features of our local landscape.
Photos can be taken on any kind of camera, and you can submit as many photos as you like, but they must be on or photographed from a right of way. The Arts Festival will exhibit at least one photo from everyone, and photographers will be credited in a list of contributors.
 
All photos need to be received by Sunday 8 May 2022.
Photos can be uploaded here, or, if you have used a film or polaroid camera, you can post your printed photos to us at: Hebden Bridge Arts Festival, Town Hall, St George's Street, Hebden Bridge, HX7 7BY. When submitting your photograph(s) you'll need to include your name, email address, postcode, the location of the photograph (a written description or 'what3words' location, so other people can find it), the year the photograph was taken and what you like about the photograph.
To inspire and enable as many people as possible to take part, Hebden Bridge Arts Festival are offering bookable places on free guided walks and workshops during March and April. Crossing Town on Thursday 31 March 10.30am-12pm is an accessible, 90-minute, guided photo walk, tailored to meet the needs of wheelchair users, families with pushchairs and individuals with limited physical mobility.  The Road Not Taken on Sunday 3 April 1.30pm-4.30pm is a photo walk and creative writing workshop for everyone aged 16+ and SNAP! on Saturday 9 & Sunday 10 April is a Crossings photo walk and workshop for 4-8 year olds. For more guided walk details and to sign up via Eventbrite visit this web page.
Free public exhibitions
The Arts Festival are hoping for around 600 crossings photographs to take centre stage in their free public exhibition, which will open Saturdays from 11am to 4pm as follows: ​4 June at St John's Church, Cragg Vale, 11 June at Hebden Bridge Town Hall, 18 June at Wadsworth Community Centre, Old Town and 25 June at Mytholmroyd Community Centre.
Crossings is a collaboration with 'The Walkers Are Welcome Hebden Royd Group' for our Land Marks project, which links Calderdale community groups with local artists to creatively explore the local and global environment. The project is supported by Hebden Royd Town Council, Calderdale Council, Arts Council England and Art Fund.