Town Council Offices have moved
Thursday, 27 July 2023
Hebden Royd Town Council says it is delighted to announce it has moved to new offices marking a new chapter for the Council and the Hebden Royd community it serves. The move reflects the Council's commitment to community engagement and efficient service delivery.
The old offices located on the upper floor of Hebden Bridge Town Hall, although steeped in history, posed challenges in terms of accessibility and visibility to the public. By relocating downstairs the Council is better positioned to serve the community's needs while fostering a closer connection between the Council and the residents of Hebden Royd.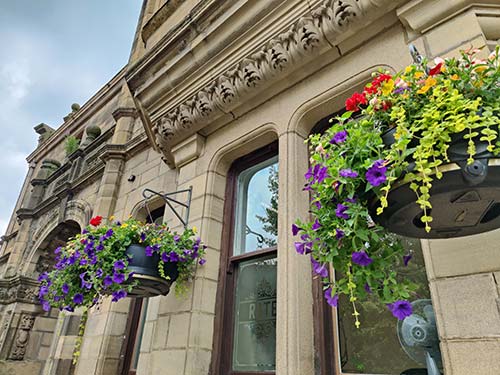 The new offices, found in Hebden Bridge Town Hall and managed by Hebden Bridge Community Association, are bigger and more equipped to meet the ever-evolving needs of our community. The premises have undergone renovation, resulting in a brighter and more open plan workspace that reflects the Council's vision for the future.
Mayor Cllr. Bernice Hayes expressed excitement about the move, stating, "I am so pleased to say we have new offices - still within the same building, but now on the ground floor. This means we are much more accessible, and we hope this leads to an even stronger presence in our community. If you have something to discuss you are welcome to drop in and have a look if, we will be more than happy to help you."
Our new offices signify an exciting chapter for the council and the community we serve. We are dedicated to enhancing accessibility and ensuring our presence is felt within the community. The new premises provide a welcoming environment for all, and we look forward to engaging with residents more closely to understand their needs and aspirations."
The Council has told the HebWeb that it recognises that building strong relationships with the community is vital for understanding local concerns, addressing them effectively, and working collaboratively towards a thriving Hebden Royd. It welcomes community groups, organisations as well as individual members of the community to visit the new offices on the ground floor of the Old Building, located within Hebden Bridge Town Hall.
The Council's core opening hours are 10am – 3pm, Tuesday – Thursday.
info@hebdenroydtowncouncil.gov.uk
01422 842181
---
We try to make sure that information on the Hebden Bridge Web is correct, but if you are aware of any errors or omissions, please email us.
If you have comments on HebWeb News or Features please make a contribution to our Discussion Forum