Flood Information Centre
Saturday, 12 August 2023
The Environment Agency's new Flood Information Centre situated on Valley Road, Hebden Bridge will be open from Monday 14th August.
Visit it on Mondays and Fridays from 10am to 2pm to speak with members of the project team and view information about the Flood Alleviation Schemes for Hebden Bridge Town Centre, Stubbing Holme Road and Erringden Hillside.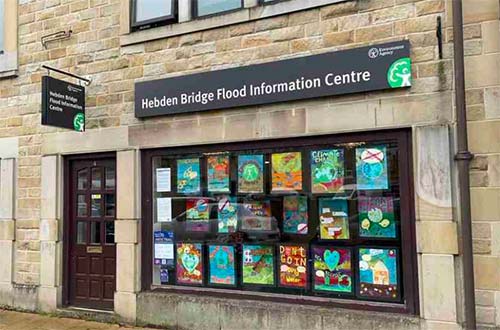 The Hebden Bridge FAS will consist of:
Raising and strengthening river walls.
Using glass panels and raising barriers to minimise any intrusion on river views within the town centre.
Improving protection to riverside properties.
Improving the drainage of surface water with a series of gully systems and a pumping station.
Construction of a canal overflow to safely convey water from the canal back into the River Calder.
The Stubbing Holme Road FAS will consist of:
Raising and strengthening river walls along Stubbing Holme Road.
Strengthening and installing walls along Rochdale canal.
Improving protection to riverside properties.
The Erringden Hillside FAS will consist of:
Installation of Property Flood Resilience Measures.
Improvement of highways drainage and surface water capture.
Development of NFM opportunities.
To receive copies of updates about the progress of our work via email, please send 'subscribe' to this email. Updates can also be found on www.eyeoncalderdale.com under the Flood Works / Hebden Bridge FAS pages.
Look out for invitations to face-to-face public meetings and virtual zoom meetings where we will share the proposals with you ahead of planning submissions and provide an opportunity to ask questions and speak to the project team.
Please note the Information Centre will be closed for the August Bank Holiday.
We try to make sure that information on the Hebden Bridge Web is correct, but if you are aware of any errors or omissions, please email us.
If you have comments on HebWeb News or Features please make a contribution to our Discussion Forum