Saturday, 7 October 2023
Wadsworth Folk: Jack Rutter and Chris Brain
Wadsworth Community Centre
Saturday 21st October
Doors 6.45 Show 7.45
After a packed house last weekend's gig, Wadsworth Community Centre next host two compelling solo musicians from Yorkshire making an impact on the national folk/roots scene - Jack Rutter and Chris Brain play the venue on Saturday 21st October.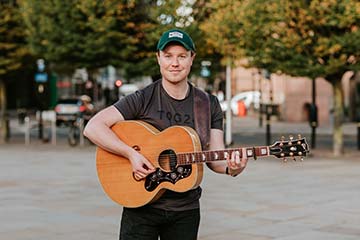 Jack Rutter has established himself as one of the standout voices of the folk, roots and acoustic music scene in recent years. The Yorkshire folk singer has enthralled audiences from the largest festival main stages to the most intimate folk clubs. His soaring vocals, powerhouse guitar and bouzouki playing contribute to masterful arrangements of traditional songs and contemporary covers. This gig is a stop on Jack's tour promoting his new album which has been described by Mike Harding "fabulous..great choice of tracks….terrific voice …total connect with the songs."

'An outstanding performer.' - The Independent

'Singular and compelling; one of the finest singers in folk today.' - Songlines

Special guest, Chris Brain renders songs embedded in folk tradition with a contemporary resonance. His compositions have introspective impressions on tenderness, loss, pain and reflect his engagement with the natural world. Currently touring his second album, Chris' soft voice has soft vocal has drawn comparisons to Nick Drake, and his intricate fingerpicking guitar style has overtones of John Martyn.

BBC Radio 6, Tom Robinson – 'an acoustic gem.'

Cask Ales, Pie & Peas.

Saturday 21st October Doors 6.45 Show 7.45
£14 (Students/Under 18 £7)

Telephone: 07731 661053 / 07491 676408 or via WeGotTickets

We try to make sure that information on the Hebden Bridge Web is correct, but if you are aware of any errors or omissions, please email us.
If you have comments on HebWeb News or Features please make a contribution to our Discussion Forum