St James' Parish Church 190th Birthday
Monday, 16 October 2023
The Right Reverend Smitha Prasadam, Bishop of Huddersfield, led a service of Holy Communion with Thanksgiving for the 190th Anniversary of the Dedication of Hebden Bridge Parish Church and delivered a joyous sermon.
A finger buffet followed the service giving people an opportunity to share stories, see old friends and make new ones.
The church had invited all the past clergy who were still alive. Only Rev Adam Ford who came 53 years ago was unable to come. He said, "I do hope your celebrations go well and send my best wishes to all (I wonder if after 48 years anyone remembers us!) HB was a lovely place to live; three of my children were born there and our lives were surrounded by good friends"
Some of the "hippies" from that times especially the Gingerbread Group may well recall him as he let the Group use the Sunday School room at St John's Church (on the Birchcliffe Hillside) for a monthly communal Sunday dinner, enjoying the feeling of an extended family meal on what was often the loneliest day of the week.
This group photo shows the past vicars as well as our future one who will be having her official welcome at St Thomas, Heptonstall, on 26th October at 7.30 pm.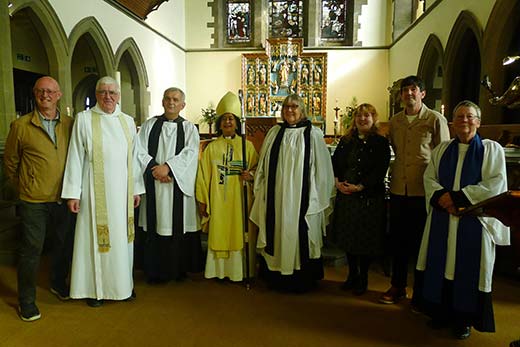 From LHS. Rev. Howard Pask, vicar 2002-2018, Rev Canon Ralph Godsall 1984-1993, Rev. Martin Parrott 1993-2001, The Right Reverend Smitha Prasadam, Bishop of Huddersfield, Rev. Karen Marshall 2019-2023, Rev Ruthi Gibbons starting on 26 October 2023 at St James' and St Thomas in Heptonstall, Rob Paton, head of Hebden Royd C of E School. Reader, Shan Evans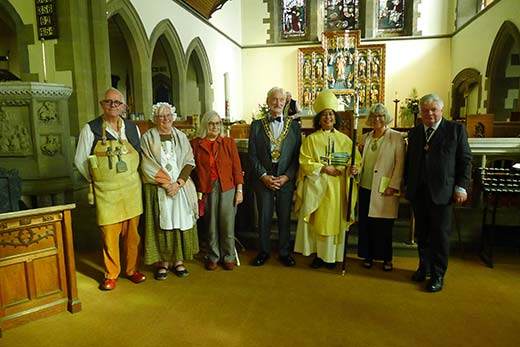 Here are the Civic Guests who attended: From LHS, Hebden Royd Town Mayor's consort, Mr Eddie Hayes, Hebden Royd Town Mayor, Cllr Bernice Hayes, Deputy-Lieutenant of West Yorkshire's wife, Michelle Dargan-Cole, Mayor of Calderdale Cllr Ashley Evans, The Right Reverend Smitha Prasadam, Bishop of Huddersfield, Mayoress of Calderdale Rosie Tatchell, Deputy-Lieutenant of West Yorkshire, Tim Cole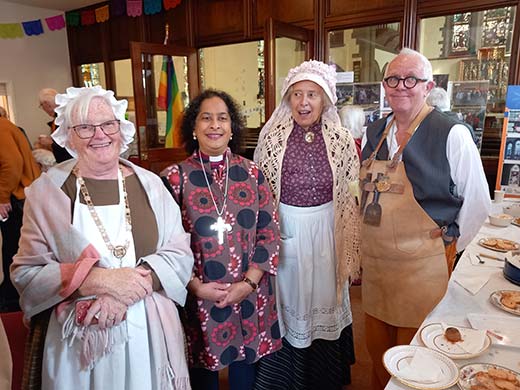 The Mayor of Hebden Royd Town Council and her consort, dressed in suitable period costume are shown here with Bishop Smitha and Diana Monahan who organised the history of the church and Hebden Royd C of E School, including a school history for children, which will be on display throughout October, whenever the church is open.  Monday to Friday 14.30-15.30 are the best times to visit as the church is always open for food share at these times. Other times can be found on the church's website. www.stjameshebdenbridge.com
We try to make sure that information on the Hebden Bridge Web is correct, but if you are aware of any errors or omissions, please email us.
If you have comments on HebWeb News or Features please make a contribution to our Discussion Forum