Monday, 23 October 2023
Heptonstall Museum updates
Beyond the exhibition
A year on from being part of the incredible #Plathfest, this year has given us an opportunity to work directly with many great poets in presenting 'Poetry at the Museum' readings and workshops. We thank everyone who has provided their talent and time to date.
This month, we mark Sylvia's birthday again and hope you'll join us for an intimate evening of celebration at the Museum. Joined by our finest local poets Ian Humphreys, Sally Baker and Clare Shaw. Sally returns on Sunday with a wonderful workshop. Spaces are filling fast.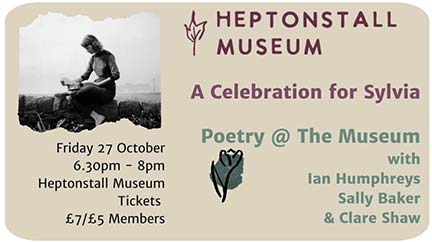 We're also continuing to discover more about working-class writer and socialist, Ethel Carnie Holdsworth, who lived nearby at Slack Top. Following our talk and walk for the joint event with Calder Civic Trust last month. We're excited to present The Brutish Multitude's first performance of 'The House That Ethel Built'.
Plans are afoot for a return of our Christmas Fayre and more special events - keep in touch via our social channels, or just pop by the museum for a chat with one of our wonderful volunteers.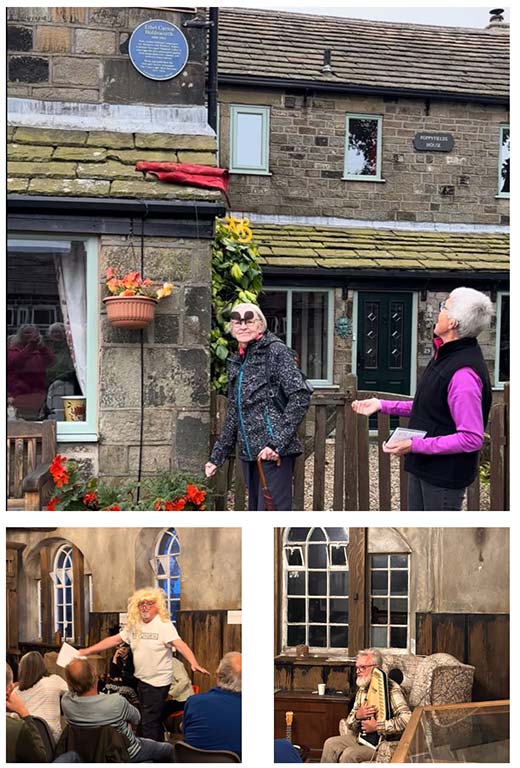 Photos from September's successful events: Ethel Carnie Holdsworth's Blue Plaque unveiled at Slack Top. Performers The Offcumdens accompanied by Miss Airedale for a fun evening of 'Light Verse for Dark NIghts'.
See HebWeb What's On for dates and times of events.
We try to make sure that information on the Hebden Bridge Web is correct, but if you are aware of any errors or omissions, please email us.
If you have comments on HebWeb News or Features please make a contribution to our Discussion Forum