Annual High Hirst Woodmeadow Fungi Survey!
Monday, 30 October 2023
Saturday 4th November, 10am to 4pm
Nature enthusiast or mushroom lover? Join Hebden Rooyd Town Council and National Trust mycologist and ecologist Steve Hindle for our annual fungi survey of High Hirst Woodmeadow. By participating you'll actively locate and identify some rare and important local fungi. In turn this will contribute to the future preservation of Calderdale Valley's threatened biodiversity and help improve our shared local knowledge base.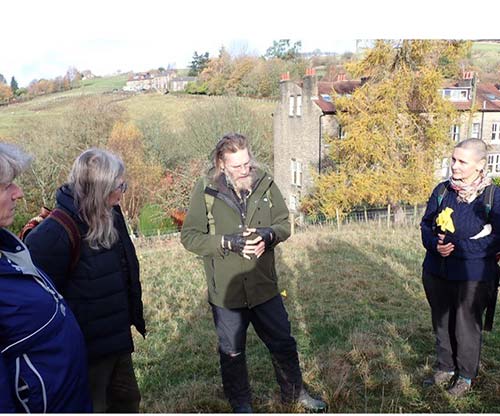 Threatened species
Last year's survey yielded remarkable findings, including the discovery of two fungal species listed as near threatened on the UK Red Data list. Additionally, we identified four species classified as vulnerable by the International Union for Conservation of Nature. This year there is the exciting possibility of identifying further endangered fungi species.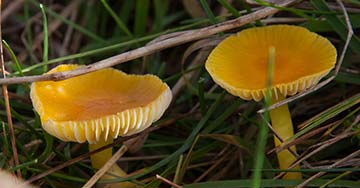 All welcome and no experience is necessary. All you need is a keen eye, a sense of adventure, a love of nature and a desire to protect our planet...
Also, fungi are crazy-beautiful, so don't forget to bring your camera!
Event Details
Steve Hindle, leading the survey, will share his extensive knowledge and help you identify different species of fungi.

Registration
This event is open to all. No prior experience is required.
Further information
The field is steep, tussocky and may be wet. Please wear weather appropriate clothing and strong, waterproof shoes or boots. There are no toilets or shelter on site. Parking is in the nearby Birchcliffe Centre carpark. Accompanied children are welcome. Places are limited to please reserve your place as soon as possible, and remember to cancel it, should you no longer be able to attend.

Book your place for this free ecological survey here.
For more information send a message to Hebden Royd Town Council Climate Emergency and Biodiversity Coordinator
Alternatively, contact Hebden Royd Town Council by email. Telephone - 01422 842181

For full details of the location, refer to the map of the local area provided in this link.
We try to make sure that information on the Hebden Bridge Web is correct, but if you are aware of any errors or omissions, please email us.
If you have comments on HebWeb News or Features please make a contribution to our Discussion Forum