Eco Christmas lights
Wednesday, 15 November 2023
Hebden Royd Town Council has announced a significant enhancement to the Christmas lights display in Hebden Bridge and Mytholmroyd. This festive season, Market Street, New Road and also Hebden Bridge Picture House will be adorned with brand-new lighting, creating an enhanced display.
Alongside the stunning new display planned for the cinema, further centrepieces include the Christmas trees, each decorated with over 2000 colour-changing LEDs and both crowned with a bright star.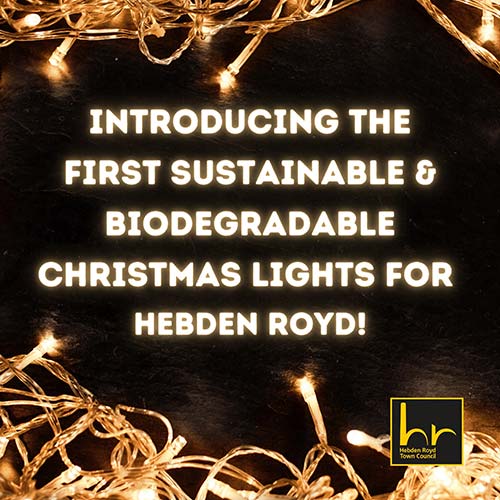 The Town Council is employing Blachere Illuminationswho have an impressive track record in lighting solutions. Their proposal stood out among a number of suppliers, with a key deciding factor being not only cost savings but also the environmental and sustainability credentials of their products.

The Town Council is committed to minimising its environmental impact, and Blachere's environmentally friendly lighting aligns with this vision. Blachere uses the brightest and most economical LED lights available. They feature a 360 degree beam angle (as opposed to the 120 degree standard) meaning the lights radiate with an optimised beam angle. This ensures a vibrant and visually stunning display while maximising energy efficiency.
What's more, the innovative Bio-Print designs are produced from biosourced GMO-free sugar cane which is turned into dehydrated bioethanol and then injected into 3D printers to produce the colourful structures. Owing to the state-of-the-art materials used, the displays are also biodegradable and recyclable, with lower carbon emissions produced from the manufacturing process. Blachere opt, where possible, to recycle the the materials into new displays and ultimately, minimise waste.

'We are thrilled to partner with Blachere for this exciting lighting project,' says Cllr. Pat Fraser, Chair of the Projects & Events Committee. "Their commitment to excellence, sustainability, and innovation aligns with the Town Council's goal of providing the community with a display that brings a little festive joy while continuing to minimise our environmental impact."

In addition to this year's upgrades, there is opportunity to renew the lighting on Crown Street, Albert Street, and Bridgegate in 2024. The Council hopes that the new illuminations reflect the Town Council's commitment to enhancing the festive experience for all in Hebden Royd while simultaneously upholding its vision for a more sustainable and environmentally focused future.
We try to make sure that information on the Hebden Bridge Web is correct, but if you are aware of any errors or omissions, please email us.
If you have comments on HebWeb News or Features please make a contribution to our Discussion Forum