Not just Happy Valley: filming is booming
Friday, 10 February 2023
After Happy Valley gripped the nation and reached its dramatic finale on Sunday 5 February, its impact will live on around Hebden Bridge and across Calderdale.
With millions of eyes on our distinctive area throughout Sally Wainwright's three series of Happy Valley, people are flocking to our area to visit the places they've seen on screen.
According to Creative England, film and TV productions inspire an estimated 40% of tourists in selecting their destinations, and iconic locations can receive an increase of 30% in bookings.
Calderdale has already felt the benefits of filming, with Sally Wainwright's Gentleman Jack trebling visits to Shibden Hall, Anne Lister's historic home.
Cllr Jane Scullion, Calderdale Council's Cabinet Member for Regeneration and Strategy, said, "Calderdale is having a moment, with the sheer amount of filming happening here. We've gone from five productions being filmed in 2016, to a massive 27 in 2022. The impact is incredible and is supporting our priority for thriving towns and places. People across the country and the world are talking about Calderdale and coming to see our beautiful landscape and heritage, our cobbled streets and quirky independent businesses and events.
"Despite now having a Happy Valley shaped hole in our lives, we're eagerly awaiting air dates for Marvel's Secret Invasion, The Gallows Pole, Full Monty 2 and Boat Story, all filmed in Calderdale. 
"Tourism is worth around £400 million to our local economy, and our teams are working harder than ever to make filming happen and capitalise on the effects."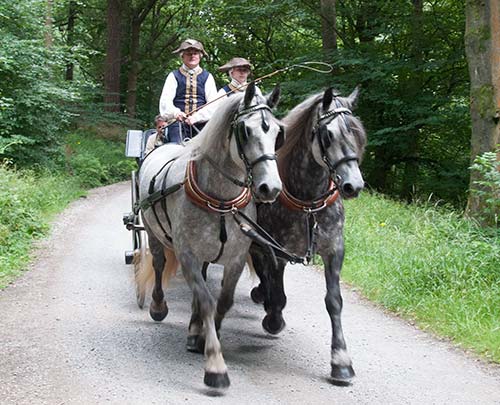 In 2022, the Council launched a new Film Calderdale website to showcase filming locations and services to TV and film production teams, and a locations database where residents can offer their properties to possibly appear on screen.
Now, the Council is working on a new Movie Map to promote filming locations to tourists, and a new facilities database where people can offer their facilities to support productions - from catering, cleaning and accommodation, to construction and equipment hire. Both are expected to launch by April 2023. 
These features, and the Council's can-do attitude to filming, help to make Calderdale an even more 'Film Friendly' place.
Peter Vardy is the Council's Senior Events and Film Officer, whose team is a single point of contact for filming requests, location bases and traffic management. Peter says, "We aim to go the extra mile and pull out all the stops to meet filming requests. We work tirelessly to make film, TV or commercial photography run as smoothly as possible when on location in Calderdale. We provide local knowledge, information and advice and help with sourcing locations and supporting logistical arrangements.
"But Calderdale's Film Friendliness is a real team effort. The whole Council pulls together to work on and champion filming, and ultimately it's thanks to Calderdale's communities for embracing and accommodating productions which can potentially interrupt their daily lives.
"My first big filming job at the Council, nearly 10 years ago, was supporting the locations and crew for the first series of Happy Valley. Throughout all three series, Calderdale as a place has offered so much – the perfect mix of locations for the right look and feel to depict the story, and welcoming teams and local people."
This was echoed by actor James Norton, who told the Council at the Happy Valley series three première in December 2022, "We love filming here, the people have been incredibly welcoming and are so supportive."
Ian Findlay, Assistant Location Manager for Full Monty 2, is equally full of praise, "I worked on The Gallows Pole and chose to come back to Calderdale for Full Monty 2 because it's a wonderful place to film. It's gorgeous, the Council looked after us so well with our logistical challenges and last-minute requests, and local people are so friendly and accommodating."
This is the kindness that defines the Vision 2024 for Calderdale and will pave the way for more productions in the future. 
Get immersed in the wonderful world of filming in Calderdale here: filmcalderdale.co.uk