NEWS REVIEW OF THE YEAR: 2010
ELECTION DEBATE CANCELLED after Labour candidate Steph Booth pulls out. More info and statement from organiser. - 12 Jan
A YEAR OF CELEBRATIONS: 500 YEARS OF THE HEBDEN BRIDGE This year, Hebden's packhorse bridge is 500 years old. And around 30 different groups are now hard at work on a programme of events in a shared celebration called HB500. Read more - 13 Jan
SUICIDE IN HEBDEN BRIDGE
revealed to be lower "than the Calderdale and UK average" thanks to the diligence of Anthony Rae and other Hebweb correspondents. Headline claims made in recent features in The Times and Independent on Sunday now shown to be "not true; and not even remotely so". See Hebweb Forum thread on the Lost Boys of Hebden Bridge
FIVE HUNDRED WORDS - send us your words as part of the Hebden 500 celebrations. They can be comic, moving, surprising, quirky, biographical, romantic, poetic - just keep it to 500 words. Read more - 20 Jan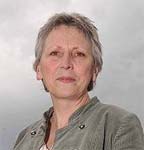 LABOUR CANDIDATE ACCUSED OF USING DIRTY TRICKS AGAINST RIVAL - " The Claimant dictated the article for me which related to Janet Oosthuysen and her so called criminal past which I posted under my pseudonym." Read more - 21 Jan
INVITATION TO SEE PLANS FOR TOWN HALL including a 200 seater hall with riverfront location. Proposals for major new community facilities for Hebden Bridge will be unveiled on Saturday February 13th, at an consultation event being held at the Town Hall. Read more - 7 Feb

GENERAL ELECTION MEETING REPORT - a general election meeting with candidates was held on 2nd February in Hipperholme and Lightcliffe. A coach was hired to take people from Hebden Bridge after the Labour candidate Steph Booth pulled out of a similar meeting planned to take place in in our town. Read more - 3 Feb
TED HUGHES PORTRAIT DONATED TO CALDERDALE. A portrait of Ted Hughes, by the artist Reginald Gray, will go on display for the first time as part of a new temporary exhibition, due to open at Heptonstall Museum in April. Irish born Reginald Gray, who has lived much of his life in France, became part of the School of London which was led by artists Francis Bacon and Lucian Freud. Read more - 5 Feb
LET'S NOT WALK AWAY. LET'S WALK TOGETHER
Hundreds walked through Mytholmroyd, Luddenden and Hebden Bridge today on a fundraising walk in the memory of Liam and Sam Jones, and the other young lives that Hebden Bridge has lost in recent years. Read more - 6 March
TRANSITION TOWN LAUNCH at the Big Green Weekend. Becoming a Transition Town begins by working groups on issues such as food, transport, energy and health designing a blueprint of what a future sustainable Hebden Bridge would be like, then making a practical energy decent plan of how to get there and implementing it. Read more - 12 March
ACRE MILL PLANS THROWN OUT - The Planning Inspectorate has ruled that houses should not be built upon the land across the road from the old Cape Asbestos factory, Acre Mil Read more - 21 March
TOWN HALL NOW BELONGS TO THE COMMUNITY - Hebden Bridge becomes one of the first communities in Britain to take direct control of its Town Hall building this week. Read more - 31 March
ELECTION VIDEOS: Jason Elliott interview has interviewed three of the four main election candidates: Green candidate Kate Sweeny, Conservative candidate Craig Whittaker and Lib Dem candidate Hilary Myer. Watch them here on HebWeb. (Labour's Steph Booth has also been invited) - 26 April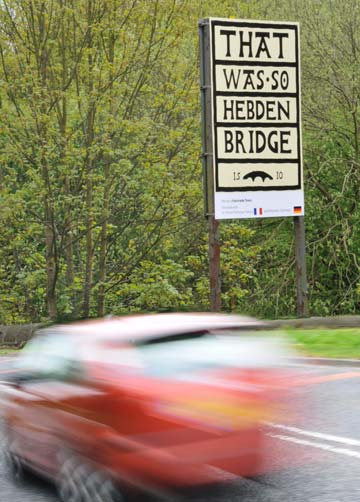 HEBDEN 500 SIGNS - Eye-catching new signs have gone up at both ends of Hebden Bridge, welcoming people to this creative hotspot and to the 500th anniversary celebrations. Read more - 3 May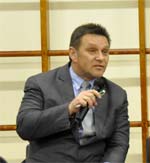 TORIES TAKE CALDER VALLEY - in the General Election, Conservative Craig Whittaker wins seat from Labour. See Calder Valley Election Forum for details results
TRANSITION TOWN LAUNCH AND BIG GREEN WEEKEND - As part of the Big Green Weekend, Hebden Bridge is finally going to be launched as a Transition Town. More details of the the activities going on around the town this Spring Bank Holiday Weekend
BIRTHDAY PARTY DRAWS CROWD OF HUNDREDS - Hundreds of people filled St George's Square and Bridge Gate to see the mayor, Robin Dixon, and his guests walk across the 500-year-old packhorse bridge with a real packhorse to officially launch Hebden's biggest ever birthday party. More info - 21 June
HANDMADE PARADE PHOTOS AND REPORT - More than 600 people took part in the parade and thousands more lined the route in sizzling sunshine to enjoy amazing giant puppets, dazzling artwork, a riot of colour and toe-tapping music. More info - 28 June
HEBDEN BRIDGE ARTS FESTIVAL 2010 - Festival time is here again and we've got lots lined up for all you performance-hungry people out there! Music? Choose from classical, folk, bhangra, blues or jazz. Literature? Take your pick from performance poetry, history, humour or Booker-prize winning fiction. And if theatre is what you want, we've got the premieres of six new plays and two great family shows.And don't forget the comedy, exhibitions, open gardens and a brand new venue in the form of a bus!
500 VOICES - choirs from our region gathered around the bridge today to celebrate the 500th anniversary of the Packhorse Bridge. The rain held of most of the time but arrived on cue for Calder Valley Voices' Singing in the Rain. The event ended with a new song by Daniel Bath: Crossing the River. More photos

LAUNCH OF 500 FACES EXHIBITION - The two year long odyssey of local entrepreneur and photographer Jason Elliott reached a high point today, with the launch of the '500 Faces' Exhibition at the Hebden Bridge Arts Festival Shop on Albert Street. Read more - 24 July
HEBWEB UPGRADE - read about how we have updated this site, and how it would not have been possible without Ariadne. 5 Aug
FIRST CIVIC WEDDING AT TOWN HALL - The first civil wedding in Hebden Bridge took place in the town's landmark Town Hall last Saturday (August 14th), when Alan Hinton and Deborah Newbold were married in the panelled Town Hall Chamber. Read more - 17 August

Death of former Mayor of Hebden Royd, Betty Ward.
See Lives Remembered - 30 Sept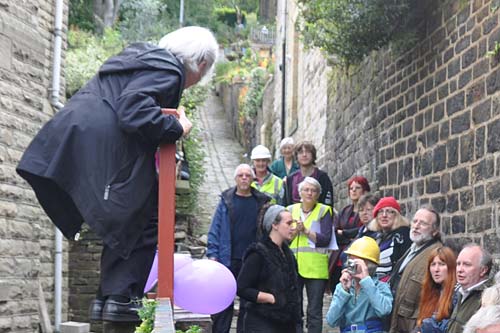 GINNELGATE DIRECT ACTION - This morning, Saturday 18 September at 10.30 am residents of St John's Close and their visitors took direct action and 'scaled the wall' which has been built across the pathway through the close on to Bankside footpath. Read more - 18 Sept
PUBLIC MEETING VOTES FOR ALTERNATIVE VOTE SYSTEM - Local politicians Cllr. Nader Fekri, Kate Sweeny, Craig Whittaker MP and Cllr Susan Press led a public debate on the alternative vote referendum in Hebden Bridge on Friday 15 October. Read report
PICTURE HOUSE THREAT - A consortium of local organisations has begun discussions with senior Calderdale council staff over ways in which the cinema's long-term future can be secured. Read more - 21 October
TOWN HALL GETS PLANNING GO AHEAD - Hebden Bridge Community Association is delighted that its plans to extend the Town Hall have been given planning consent. The decision, taken by councillors at last night's planning committee, will potentially give the town major new community and civic facilities, as well as opening up the river Hebden waterfront for a new public square. Read more - 27 October
PUBLIC MEETING TO LAUNCH ANTI CUTS COALITION - The first step in a newly-launched campaign is a public meeting bringing together everyone concerned at the policies proposed by the Coalition Government. The meeting will be held at the Trades Club in Hebden Bridge on Thursday November 18 and organisers are urging as many as possible to attend. Read More - 8 November
COOP MAKES CHANGES AFTER MEETING - regional manager of the Co-op, Tim Coulson writes to HebWeb with a report of the recent meeting and outlining the changes which have already been made. Read More - 17 November
POEM FOR HEBDEN BRIDGE, 'GREAT TOWN'. Yesterday afternoon, Hebden Bridge won the 'Great Town Award' given by The Academy of Urbanism. Previously, Hebden Bridge has been voted the 4th funkiest town in the world and the UK town with most local identity. Read More - 20 November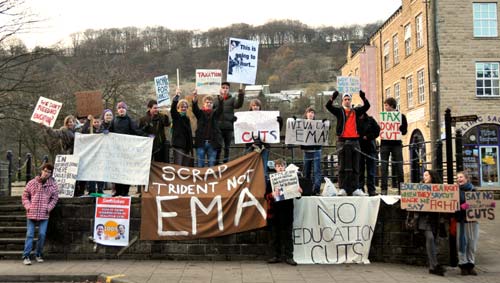 STUDENTS PROTEST IN HEBDEN BRIDGE - Hundreds of students from the Calderdale area took part in a protest against public sector cuts, particularly cuts in education and rises in tuition fees. The protest was organised by local sixth formers who go to college in Mytholmroyd, Halifax and Huddersfield in order to coincide with the National Walk Out Day. Read More - 24 November
UNIONS CAMPAIGN TO PROTECT CALDERDALE SERVICES - All unions representing Calderdale Council employees have launched a petition as part of their campaign to protect frontline services. Read More - 3 December
£50,000 MORE FOR SKATEPARK: construction could start early 2011. Confirmation has arrived from the environmental regeneration charity, Groundworks UK, that the Friends Of Calder Holmes Park have been successful with their 2nd stage application for funding towards improvement and extension of the skatepark. Read More - 8 December
HEBDEN BRIDGE BOY WINS POETRY PRIZE - An eight-year-old Hebden Bridge boy, Hugo Grundy, has won first prize in Old Possums Children's Poetry Competition 2010 (7-8 Year Old Age Group) with his poem Homelands. The prize was presented by Roger McGough. Read more - 14 December
SNOW AND COLD - Snow and subzero temperatures continued day and night for most of the period from the end of November till just after Christmas.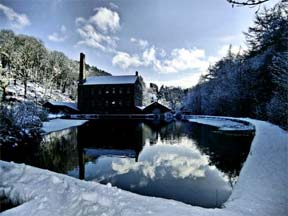 See Facebook Group, I Love Hebden in the Snow. Young photographer, 22 year old Chris Zimnock sent us some stunning photos for our Snow Gallery - now updated - if you have any good shots email them to the Hebweb or if you have any snow stories, see this Forum thread.