Saturday, 1 February 2020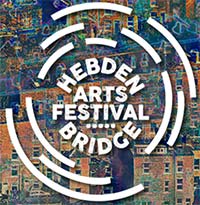 Helen Meller steps down from Arts Festival
After 7 successful years Helen Meller is stepping down as Hebden Bridge Arts Festival Artistic Director. Helen became the Festival's Artistic Director after a career in publishing and television in London led her back to her native Yorkshire roots. Since then she not only bought some of the country's best talent to the valley but also celebrated the inherent creativity of the people and the place.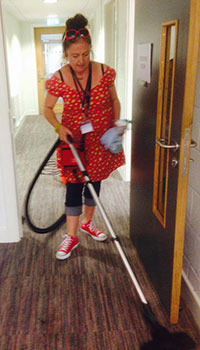 "I have absolutely loved my time as Festival Director but after 7 years, it's time to move on," says Helen. "There have been so many unforgettable moments and I feel proud and privileged to have been able to work with so many inspiring people in so many different ways. I want to thank the Festival Board and teams past and present, our funders and supporters, our partners and collaborators, our loyal volunteers and all of the talented artists and performers who have delighted and entertained us."
As reported on the HebWeb on 14 Janaury (HebWeb news), the Arts Festival Board have also announced, after careful consideration, that this is the ideal point for them to take some time out to think about what the festival will look like in the future so will not be staging a festival in 2020.
"The Board want to put on record our appreciation for the outstanding work Helen has done," says Acting Festival Chair Amanda Dalton.
"Not only has Helen created a coherent artistic vision for the festival, but she's worked tirelessly to engage new audiences and promote collaboration and partner working across the valley. We have been very lucky to have her and we wish her the very best in whatever she does next."
Some previous reports
HebWeb News: Arts Festival seeks new Chair and Trustees (14 January 2020)
HebWeb News: Arts Festival pops up in Heptonstall Museum (8 October 2019)
HebWeb News: Songs and cakes as gardeners open gates (28 June 2019)
HebWeb News: Street Sunday spectacular is back (13 June 2019)
HebWeb News: Arts Festival explores the digital world (5 June 2019)
HebWeb News: John Hegley's Easter offer (13 April 2019)
HebWeb News: Calling all gardeners (9 April 2019)
HebWeb News: Arts Festival Open Meeting - a chance to shape the Festival (15 March 2019)