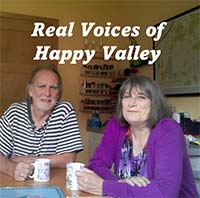 Podcast: a chat with Kerry McQuade and Neil Diment
Saturday, 5 August 2023
The latest episode of Real Voices of Happy Valley podcast by Viv and Dave Boardman features a chat with Kerry McQuade and Neil Diment about the High Hirst Wood Meadow Project.
The project is about protecting an ancient grazing area off Sandy Lane, Hebden Bridge where a recent survey found dozens of species of endangered plants.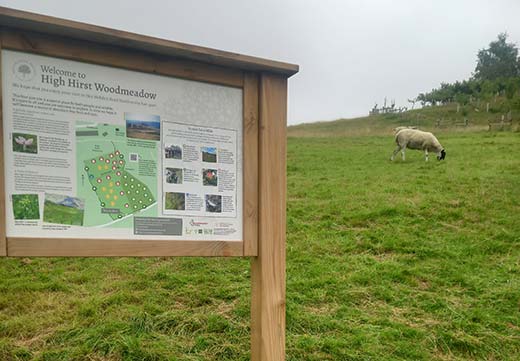 Until very recently, the meadow was a farmer's field. It is now owned by Calderdale Council and managed locally by Hebden Royd Town Council.
A botanical survey revealed an astounding richness and variety of old hay meadow plants, at least 20 of which are very rare, and crucial to the biodiversity of the area. The hay meadow was previously scythed manually so that the rich soil has probably never been ploughed or disturbed.
Kerry and Neil talked about the tradition of hay time, with a hay time tea, singing and dancing. 20-30 people have been involved recently and more are always welcome. Email the Town Council.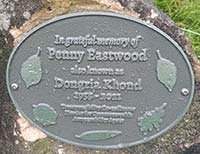 In part the project is also a tribute to Dongria Khondh or Penny Eastwood, founder of Treesponsibility a much missed inspiration to all who care about the environment and sustainability. Since the 2015 Boxing Day flood, Treesponsibility have planted more than 50,000 trees.
The High Hirst Wood project is supported by Hebden Royd Town Council. Councillor Nicky Harvey is a leading member of the team and she is praised for her efforts.
Previous episodes of Real Voices of Happy Valley are also available at the Real Voices of Happy Valley RSS Feed (buzzsprout.com) and a variety of podcast platforms. They include a chat with Colin Lyall of Lyall's bookshop and Tod UFO meet
---
Look out for the podcast: Real Voices of Happy Valley. Or search for it on Spotify, Podbean, Apple or wherever you get your podcasts. Comment on Real Voices of Happy Valley Facebook page.
See also:
Botanical Survey, Condition Report, and Management Advice for High Hirst Wood Meadows - June 2023
HebWeb News report: Podcast: Real Voices of Happy Valley (June 2023)
HebWeb Lives Remembered: Dongria Khondh / Penny Eastwood
---
We try to make sure that information on the Hebden Bridge Web is correct, but if you are aware of any errors or omissions, please email us.
If you have comments on HebWeb News or Features please make a contribution to our Discussion Forum