Podcast: Behind the pages of Pennine Pens
Sunday, 27 August 2023
In episode 10 of Real Voices of Happy Valley, Hebweb editor Chris Ratcliffe discussed the origins of Pennine Pens, Jill Liddington's early work on Anne Lister, creating the Sylvia Plath online forum, Hebweb and View From The Bridge – satirical stories that gently poked fun of the folk in an unnamed Yorkshire mill town. Listen here.
The 1980s Tory Government's Enterprise Allowance funded him and his partner Elaine Connell to go cycling in south west France to research their first book Cycling in Search of the Cathars.
You'll hear about how Chris and Elaine were at the forefront of developing community internet use and you can hear some of the pitfalls as well as the innovations they made.
Being invited to talk with Viv and Dave inspired Chris to expand the conversation he had into this article: Behind the pages of Pennine Pens. (PDF)
Chris Ratcliffe said, "it's difficult to believe now but back in 1997, the HebWeb was pioneering in putting General Election discussion online. "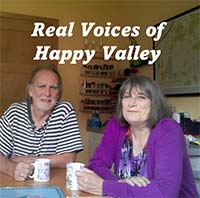 Real Voices of Happy Valley is produced by Viv and Dave Boardman and is based on Calder Valley and how so many of its people are creative, innovative, community minded and constantly working to improve things for the environment and its people.
Other recent episodes include a chat with Winston Plowes, land artist who creates art out of what he finds on his rambles.
"Around here you don't have to go far to find lovely people quietly doing important things," Viv Boardman told the HebWeb.
There are also episodes on local football, Colin Lyall's Bookshop and UFO meet, Folk Roots, Open Studios, creating a long lasting bookclub and raising funds for local causes by creating bird photography calendars.
There are many more to come but Dave and Viv are interested in hearing suggestions about who else to chat with. Message them through the Facebook page Real Voices of Happy Valley
---
Look out for the podcast: Real Voices of Happy Valley. Or search for it on Spotify, Podbean, Apple or wherever you get your podcasts. Comment on Real Voices of Happy Valley Facebook page.
See also:
Listen to the Podcast: Viv and Dave talk with Chris Ratcliffe
Behind the pages of Pennine Pens (PDF)
HebWeb News: Podcast: a chat with Kerry McQuade and Neil Diment - about the High Hirst Wood Meadow Project. (5 August 2023)
HebWeb News: Podcast: Real Voices of Happy Valley (June 2023)
Pennine Pens website
---
We try to make sure that information on the Hebden Bridge Web is correct, but if you are aware of any errors or omissions, please email us.
If you have comments on HebWeb News or Features please make a contribution to our Discussion Forum